PCT Systems, Inc. Overview of Services Provided
For over 20 years, PCT Systems, Inc. has pioneered and developed leading cleaning semiconductor manufacturing industries with products ranging from megasonic generators and transducer plates, quartz, stainless steel and plastic process tanks. With numerous patents customers around the world have come to depend on us for the highest quality and performance whether using a standard product or a custom engineered solution. With the development of specific geometries and more fragile structures and wafers, customers need more process development options than ever before to be successful, productive and profitable. 
PCT Systems, Inc. has always positioned itself as nimble, responsive, innovative, and ready to handle new challenges brought to our attention. If you don't see what you're looking for on our website that doesn't mean we can't accomodate your needs.
Just ask. PCT Systems, Inc. will deliver. 
Here is a brief overview of the services provided:
Megasonic Energy Audits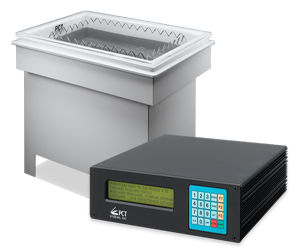 PCT Systems, Inc. regularly conducts Megasonic Energy Audits for customers in the field. These audits are performed during routine PM's to check for energy uniformity and cleaning efficiency. This procedure allows our technicians to optimize systems or detect the need for repairs. Each audit produces a complete performance report and full system evaluation.
Our applications engineer will visit your facility, identify and troubleshoot your equipment, calibrate the system and perform on-site repairs if necessary — saving you time and money and possibly eliminating the need to ship your equipment in for repairs.
PCT Systems, Inc. uses the following approach: 
Inspect and analyze your system
Performance map your entire system 
Calibrate transducer with generator
Tune and optimize system performance
Megasonic Generator Upgrades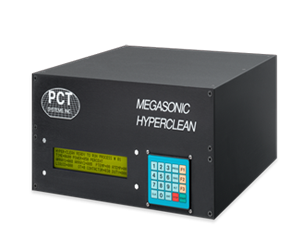 Our generators can be used to upgrade or replace a damaged generator. As a part of the process we analyze our customer's system, formulate an interface box,  and work on finding a complete solution. Customers will see marked performance improvement. Plus, we keep generators in stock which can dramatically reduce down time. 
Improve performance of your cleaning system with a new megasonic generator. Our independently tuned generators improve cleaning effectiveness, even when integrated with megasonic cleaning systems made by other manufacturers.
Our self-tuning generators optimize transducer frequencies and deliver higher acoustic energy to the wafer surface. Uniform acoustic energy levels provide consistent removal of particle contamination within and across substrates in the process bath.
To initiate an audit, please provide the following information: 
The number of systems that need review
The manufacturer of the systems
The model number of the systems
The tank capacity
Any issues with performance
Plastic Welding Tank Fabrication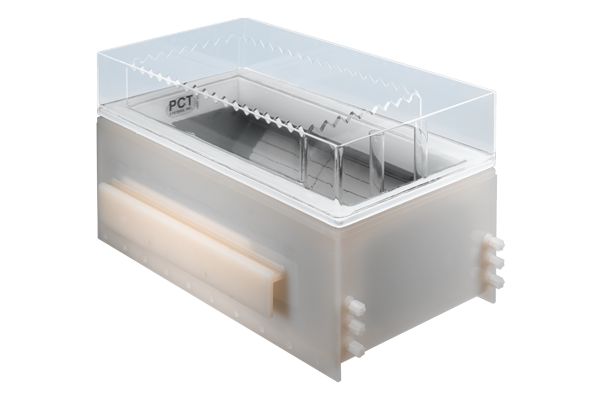 Tank fabrication involves incorporating and addressing specifications, materials production methods, testing procedures, as well as keeping in mind the different methodologies utilized by each manufacturer. 
We offer plastic welding and tank fabrication from many different plastic materials, and tank rebuild services at our fabrication facility in San Jose, California.
Equipment Upgrades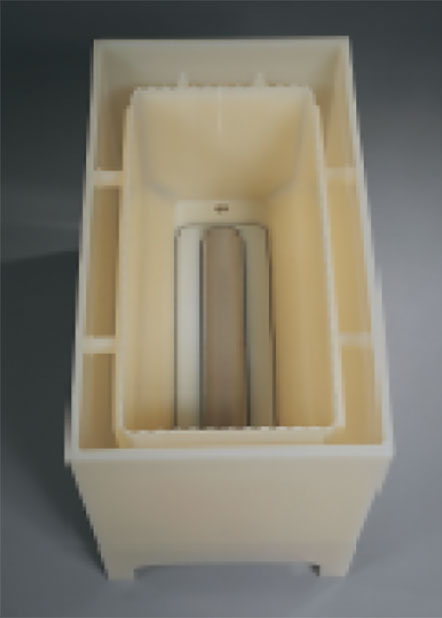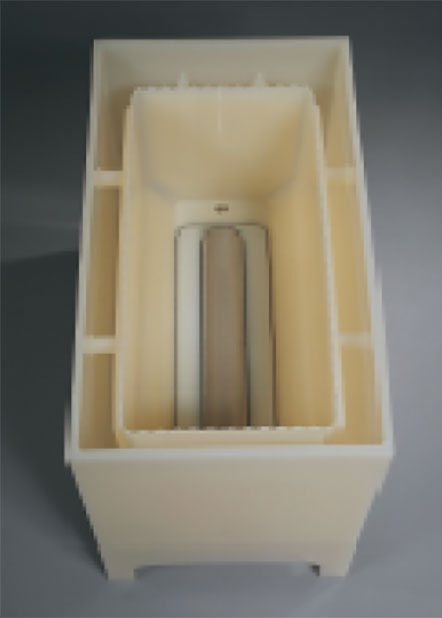 PCT Systems has been successful at replacing legacy megasonic equipment from Verteq and many other OEM's that no longer support older model megasonic tools.
If you're in the market to upgrade your legacy megasonic tools, PCT Systems, Inc. can provide a customized action plan on how to address your upgrade requirements.
Contact us directly for specific quotes.
Sonochemical Reactors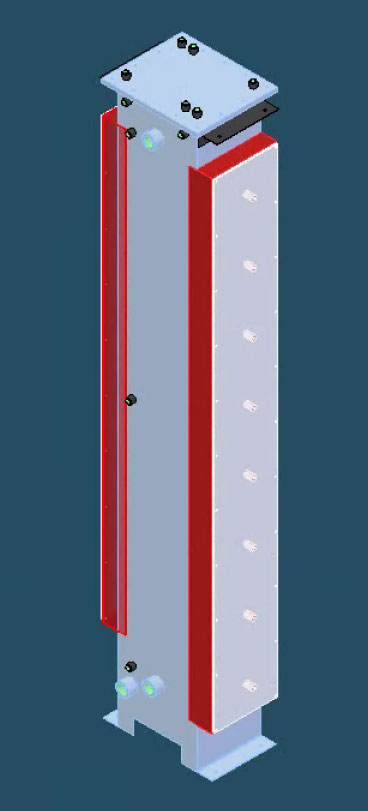 Our patented processes for sonolysis and sonochemical reactors can assist customers with remediation and water treatment. In addition, our sonochemical reactor research can be utilized for life sciences, bio-chemical industries, and chemical mass transport. We advocate a growth mindset for sonochemical reactors by focusing on anything that can be improved by sonochemical and acoustic energy interactions. Contact us directly regarding this facet of our services.
Customized Solutions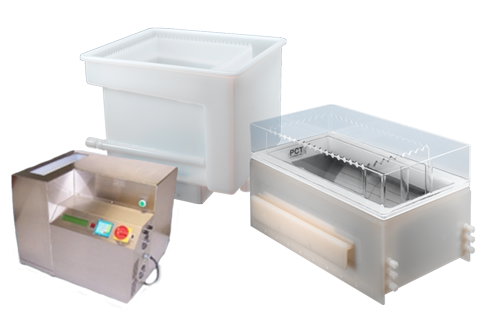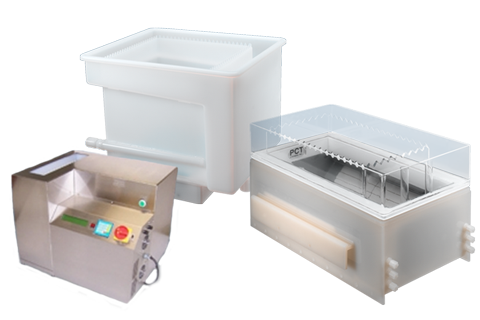 A specific service may not appear on our website, but feel free to contact us to determine how we can work for you. We can provide a customized solution plan for the service you need. 
PCT Systems, Inc. provides end-users and OEM's customized solutions for their particular needs. We can design and provide customized equipment for megasonic assisted tools and transducers, heated tanks, R&D sized tools and Megasonic or Ultrasonic standalone wet benches.
Repairs & Refurbishments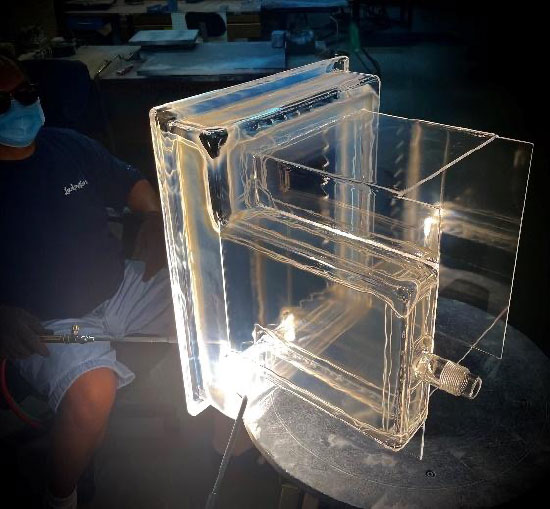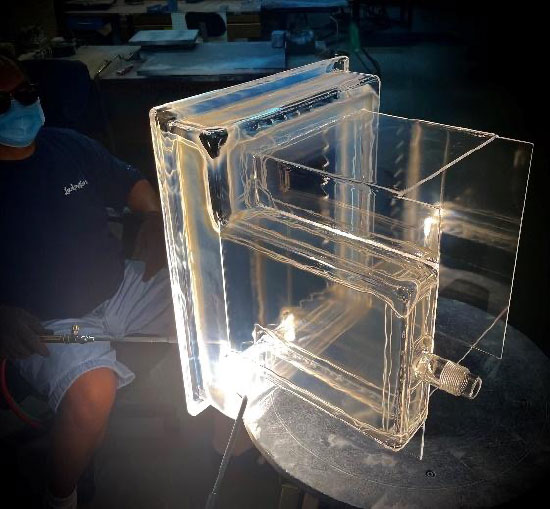 PCT offers quartz tank repair and heated bath refurbishment – even tanks/baths supplied by other manufacturers. PCT can restore cracked and chipped quartz tanks, and rebuild your heated constant temperature bath with new Inconel heaters, thermal safety devices, and new fire retardant plastic enclosure
Don't throw away a damaged Quartz piece. PCT can evaluate it and provide an estimate for repair. You might be surprised at the savings by repairing a damaged tank over purchasing a replacement.
REPAIR AND REFURBISHMENT PROCESS
Submit a Repair Request with a complete description of the damages to your tank or heated bath along with photos.  Include any specifications for heaters such as wattage and voltage used.
Based on the photos, PCT will determine if your quartz tank is repairable and will respond with a cost estimate along with shipping instructions.
Upon receipt, PCT will evaluate the tank to confirm repairability and make any necessary adjustments to the price quote and payment terms.
PCT will strip the tank down to fuse, grind and polish the quartz vessel, then rebuild the tank.
Upon completion of repairs, PCT will thoroughly inspect and test the tank for structural integrity and performance.
PCT will provide photos of the repaired tank along with test reports prior to its return shipment.
Heated baths will be supplied with updated drawings and specifications along with a 6 month warranty.
PCT Systems, Inc. specializes in supplying custom solutions for your application.