PCT manufactures bulkhead mounted megasonic transducer assemblies in Halar or Tefzel coated aluminum and stainless steel with frequencies from 450 KHz to 2.2 MHz. Our Direct Bond & Indirect transfer transducer assemblies are available with a wide variety of process tanks and constant temperature baths. We can build the tank and transducers to your specifications or we can design a custom bulkhead mount transducer assembly for your existing tank.
Because PCT's technology allows for multiplexed operation, our transducer assemblies can be mounted in vertically in the sidewall of a tank allowing for greater design flexibility with larger substrates or complex geometry parts. Transducer assemblies come in standard wafer sizes (100mm, 150mm, 200mm, 300mm and 450mm) — plus custom sizes.
Features
Frequency range 450 KHz to 2.2 MHz
Direct or Indirect configurations
Bottom or sidewall(vertical) configurations
For ambient to 80C operation
Compatible with a variety of chemistries
Single and dual cassette sizes up to 450mm
Custom sizes and configurations available
Multiplexed or Full-on operation
Megasonics Generator
Model 6000 Series Generator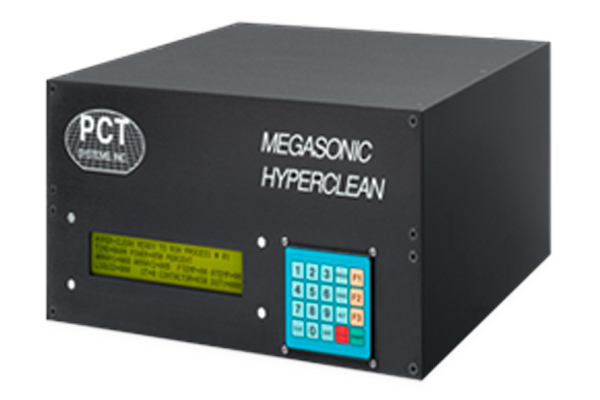 Megasonic performance starts with the generator and not all generators are created equal. Simply put, PCT offers the most versatile and fully featured megasonic generators on the market. PCT has pioneered and developed the leading megasonic technology available in the global market with numerous patents and pending applications. Customers around the world have come to depend on PCT for the highest quality and performance megasonic systems today. With the development of super fine geometries with more fragile structures and substrates, customers need more process development options than ever before to be successful, productive and profitable. HyperClean™ incorporates PCT's unique energy-transfer technology for superior submicron cleaning, reduced operating costs and high reliability.
Unmatched Process Control & Flexibility
No matter what the application, PCTHYPERCLEAN™ Megasonic Generators havebecome the standard by which others are measured.No other manufacturer's generators are able to drivevirtually any make megasonic transducer array. Sowhether a new system or replacement generator isneeded, PCT can provide Process improvement withour patented HYPERCLEAN™ technology.PCT Systems, Inc. offers complete HYPERCLEAN™Megasonic Systems including a wide tank selectionof quartz, plastics and stainless steel for any sizeapplication or substrate. Customizable transducerarrays in either direct bond or indirect transferconfigurations to offer an unequalled selection forusers to optimize their systems.
Multiplexing operation for 2-8 transducers per output.
Optional embedded temperature controller for heaters
Individually Configurable and Tunable for Optimum Process Results
Programmable RF Output Range up to 350 Watts per Channel
2 Independent Channels with 8 outputs per Channel
Synchronized or Individual Control of Each Channel
Patented Multiplexing for On/Off Control of Individual Transducers
Process Variables and Real Time Data Monitoring
Multiple Frequency Bands Individually Controlled
(600 kHz – 1 MHz)
Dimension
Model 6000 Series Generator
Width
14.0"
Length
14.0"
Height
7.0"



Megasonic Amplifier Operation

Controller
Multiplexing operation for 2-8 transducers per output. Optional embedded temperature controller for heaters.
Number of Channels
2
Number of Outputs per Channel
8
Maximum RF Output/Channel
350 watts
Maximum RF Output per Unit
–
Programmable RF Output Range
0 to 350 watts per
Channel
Programmable Recipes / Channel
–
Frequency Changes / Recipe
–
RF Output Power Tolerance
+/- 10%
Frequency Bands
600Khz-1MHz



Mechanical Specifications

Voltage Rating
208-240 VAC, 50/60 Hz
Current Rating
Max 10 amps non-heated (Max 30 amps heated with Model 6000)
Environmental Operating Range
0° to 27°C Operating Range, -25° to 50°C Storage Temperature Range
Frequency Resolution
100 Hz
Frequency Accuracy
+/- 100 Hz
Programmable Sweep
Functionality
1-10 KHz
RF Output Connectors
DB15F



External Interface

External Interface
DB15 Male Connector, +5v Loopback – Pin 10, Liquid Level – Pin 4, Ground – Pin 8, 9, 12,
Communication Ports
SECS II: RS232: DB15 Male connector, Receive – Pin 6, Transmit – Pin 7,
Transducer Connections
DB15 Female connectors for each array/channel



Displays/User Interface/Data Storage

Display
4 Line 40 Character LCD with keypad or PDA/LCD Touch Screen Monitoring for Frequency vs. Time, Power vs. Time, and more
Data Storage Capacity
2 GB
Data Export
XML Format